Iain köpte en Kona Rove ST 2017 hos oss den 16e september och planerade att cykla hem från butiken. Iain bor i Skåne 🙂 Han skrev ett test om cykeln när dem 631km var avklarade. Här finns testet, på engelska: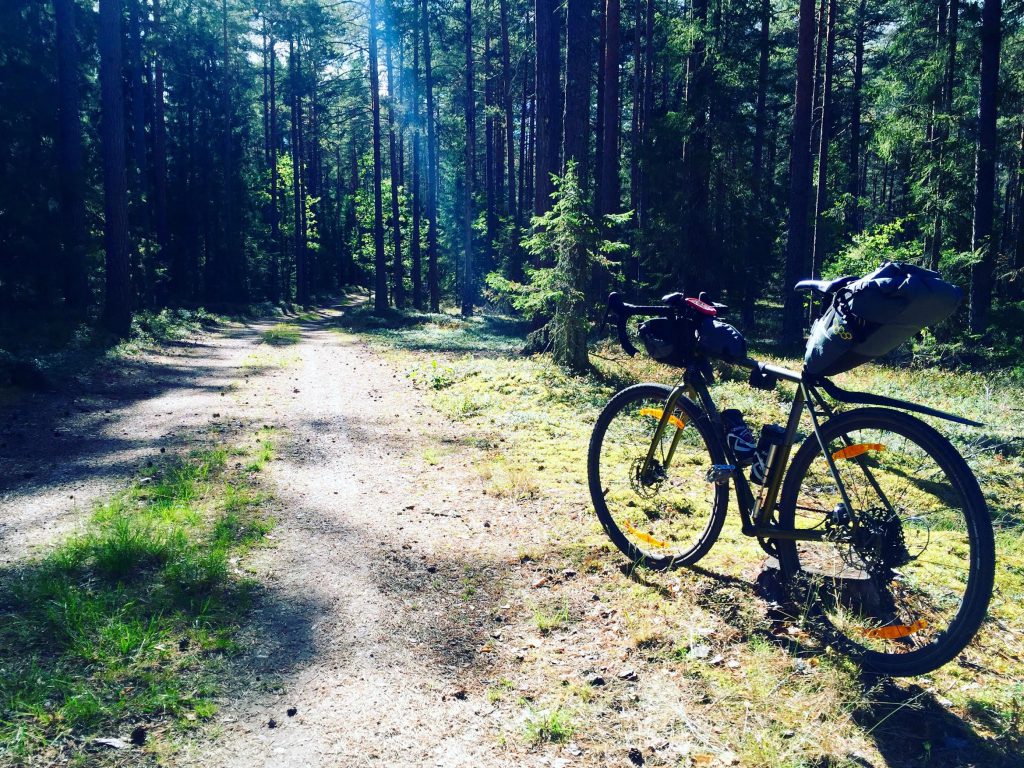 XTREM TEST RIDE REPORT – KONA ROVE ST 2017
When you own 8 bikes – but you only need one
x = n + 1 (minus n)
So the formula goes. How many bikes you need (x) is equal to how many you have today (n), plus 1 more. Always one more. No discussion ;-)…
With 3 racers, a TT bike, a fixie, a commuter ride, a 26" MTB and a 29" MTB propping up various parts of my house and garage I obviously needed a new bike. Something suitable for all road surfaces (especially gravel), sturdy, comfortable, low maintenance, ideal for touring and flexible when it comes to tyre width. In other words a bike that could do everything that my existing fleet couldn't.
Some internet browsing, various recommendations from friends and my own personal taste led me to the KONA range and specifically to the 2017 model of their steel framed Rove ST model. On all points it looked like it fit the bill, as well as being a great looking bike. So the only question was where to get my hands on one.
Support your LBS
It didn't take long to find the most competitive price on the web, with a combo bike-shop/online retailer from the UK offering the best deal including shipping to me in Älmhult in Southern Sweden. However if we all only bought from foreign online retailers then who'd fix our bikes when they needed some love and attention? So I kept looking to see if I could find a Swedish bike shop who offered KONA. Seems like there's only one – "Fixmybike" in Stockholm over 600 kms away – but what better way to support your "local" bike shop than to call them up, reserve the bike and pick it up and ride it home? Sounded like a plan!
Huge cred to Yoann at Fixmybike. The bike was ready for me when I arrived off the early morning train from Älmhult to Stockholm. In addition to the standard bike he quickly helped me accessorise it with pedals, a mini-pump, "blade" rear mud-guard with built in light, bottle cages and a couple of spare tubes. I was on the road within about 20 minutes, after a quick test spin around the block and a slight saddle height adjustment. All that for a price more than 1000 Sek cheaper than buying online (enough to cover my train fare & 3 nights hostelling on the way
home!)
The route
I planned a route which followed the smallest roads possible, with as much gravel and forest road as I could find – whilst always following a "reasonable" route generally in the right direction. If you route plan on Google then the recommended route is 472 kms by car or 526 kms by cycle. My route turned out to be 631 kms of which 160 kms was varying degrees of gravel (hard-packed mud, loose small gravel, loose stones, grassy forest trails) and the rest was mainly minor paved country roads and lanes. It's fair to say I got to test the bike on a wide spectrum of surfaces, with the exception of more technical forest trails.
The ride
I've never felt so sure about a bike so quickly! Talk about love at first ride…
We'll start with the fit & comfort. As far as fit is concerned the geometry of the KONA frames means that you probably feel most comfortable on a frame that has lower numbers than you're used to. I normally ride a 56cm or even a 57cm road bike – but the 54 (M/L) KONA was perfect. Then the comfort you get from a steel frame doesn't need any explanation from me but just to emphasise it – I rode 8-10 hours per day for 4 days and did not have the slightest ache or pain anywhere on my body. Nothing. That's what I mean by comfort!
The handling
Handling. This bike handles like a dream. I didn't over-do it on the baggage front, but I'm a pretty heavy rider so I can only assume the experience would have been similar for an average rider with more baggage.
On the flat paved roads you could almost forget you're not on a pure road bike. Everything is smooth and balanced and you feel you're getting a pretty good speed for your effort. But this bike isn't designed for straight flat paved roads. On the loose gravel – even on really fast winding downhills – I felt in total control and could ride pretty aggressively at high speed. I never hesitated if I had to quickly divert to avoid a pothole or switch track for whatever reason.
Gearing. The SRAM Rival 1×11 spd drivetrain (40t chainring & 11-42 cassette) never missed a beat on the whole trip. I found this to be an ideal gearing spectrum – able to keep pedalling at a reasonable cadence at speeds over 50kph on the fast downhills whilst having the 40/42 ratio to make it up even the steepest loose gravel climbs.
Brakes. The TRP Spyre C mechanical disc brakes are apparently a new development for 2017's model, with the braking pressure being applied from both sides of the disc. That's where my technical knowledge reaches it's limit. All I know is the brakes well both smooth and/or responsive as necessary.
Tyres. Seems like the Clement X'Plor MS0 Tubeless 700x36c's are absolutely bulletproof. I really put them to the test as some of the gravel sections were quite large sharp stones but checking the tyres treads and walls at the end of the trip you'd think they just came out the packet. Great thing about the bike is the flexibility on tyre choice. You can stick a pair or slick 23mm race tyres on – or you can go all the way up to full MTB winter tyres.
Conclusion
I think I found my dream bike. 631kms of pure cycling pleasure in 4 days and if it wasn't for a mild feeling of fatigue I'd be out on it again today after arriving home yesterday evening.
Top marks for service also to the guys at Fixmybike in Stockholm and kudos for stocking such a great brand of bike.
Now I just need to work out why I've got so many bikes….
@riojarouleur 2016-09-19