A bike you can trust!
The Kona Sutra LTD is just like a good friend ! It's reliable, always ready to travel with you, and it gives you lifelong memories !
I've been trying the 2020 model across Scandinavia with 2 friends of the "ToTheNorth" team. 3117km to go from Stockholm to the Northcape, traveling through beautiful Scandinavian landscapes, gravel, asphalt and trails.  After such a ride on the bike, a word comes to my mind : versatility.
It kept on surprising me the whole way ! Not only because it is reliable, but also comfortable, sustainable, resistant and good-looking ! Whatever the path, whatever the weather and whatever the hill, it always has something good to offer.
A defining feature is its wide tires (700×50), that allow you to ride properly even on the steepest cliffs of Höga Kusten National Park. They were the tires needed, we couldn't have ridden the Swedish gravel paths we rode with thin road tires. And guess what : No pinched tire over 3000km ! (which is really honorable given the way we used them)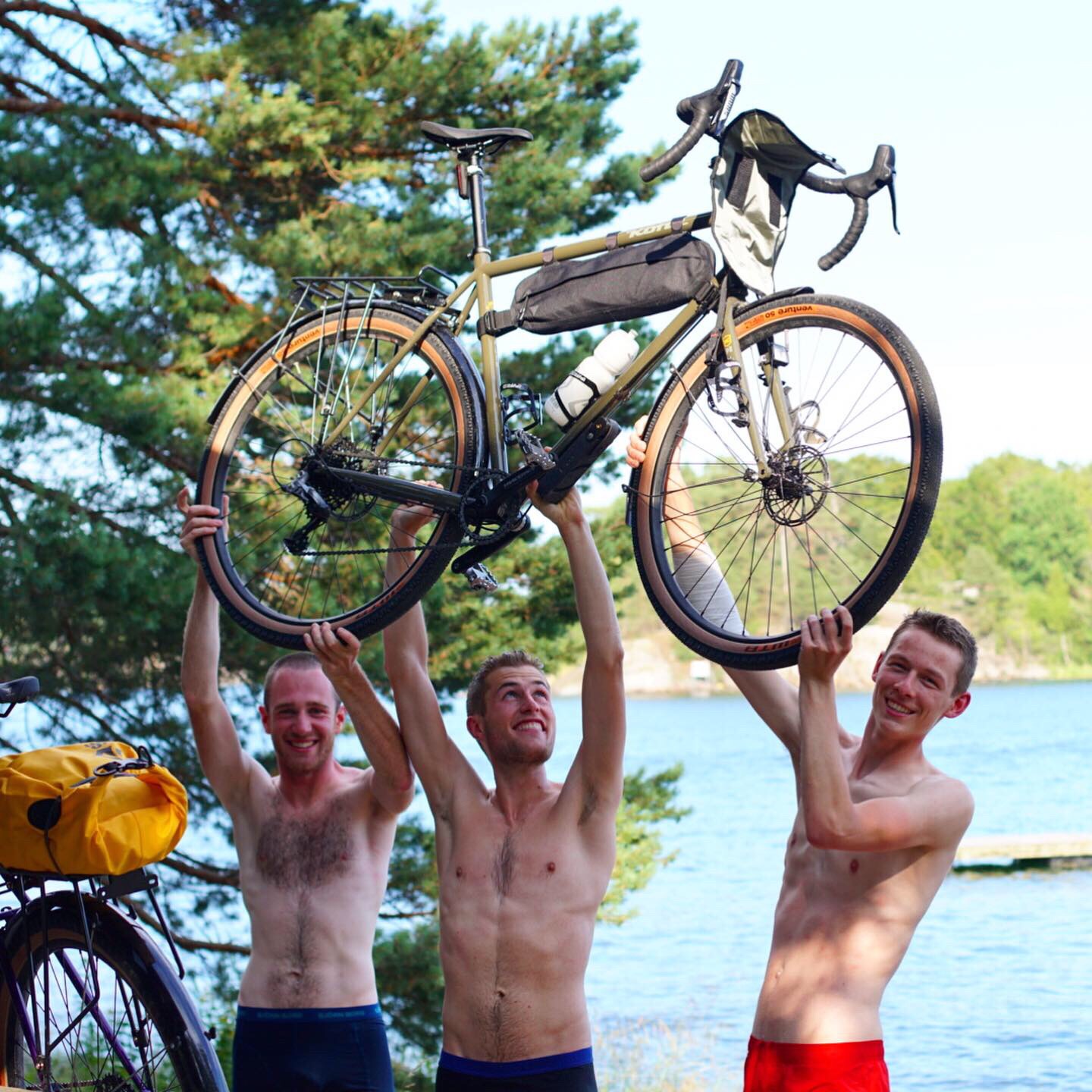 A comfortable rocket
The firsts weeks of the trip were mainly on gravel roads, but once we started riding in southern Lapland leaving the Baltic sea coast behind us, landscapes evolved : we had a lot more asphalt roads. And here comes its surprising comfort ! I would forget I was riding a bike, feel like I was only dreaming about Lapland beauty and wilderness without providing any efforts. Not only because the geometry of the bike is very decent, but the wide handlebar and the steel-made frame are helping. The overall position is stable, just like on a mountain bike, and it is efficient, just like a road bike ☺ ! My panniers and handlebar bag weight was almost imperceptible !  I believe this comfort is a big key to enjoy a long trip.
It needs no maintenance
30 days of pleasure ! If you're like me, and that you'd rather have mechanical issues at home than on a 1 month trip, maybe this bike is for you ! On 30 days of bike, I haven't had any issue on my bike : the only mechanics I had to work with were moving my brake caliper a little after 20 days to avoid this noise we all know. But other than that, the fact you have no front shifter but only a rear one, plus the SRAM rival system that's resistant and easy to use / tinker with makes the bike very trustworthy.
If you go on a 1 month trip, just bring a good multitool and feel safe and confident ! Anyway Fixmybike does a crazy work on the bikes so that they run without a hitch ! 
I would probably recommend to a friend to take the Kona Sutra or Rove ST model if he goes on a very long trip : the hydraulic brakes of the Sutra LTD are not easy to adjust on the road, whether you can just pull the cable of the Rove ST and the Sutra if you want tougher brakes. My two fellows were able to do that with their Kona bikes ! I was kind of jealous.
On the other hand, the Kona Sutra LTD has this great advantage over the Sutra with the single chainring (36t). The wide range 11s cassette 10-42 compensates well the versatility of the 3×8 gears on the Sutra (heavier equipment).
And lasts long
You can use your Kona for several trips as it stays on excellent condition after several hours riding. The Venture tires and the whole transmission were surprisingly persevered after over 3000km. It's resistant and sustainable. 
So that you can enjoy your journey
The 2020th model has a pure style, with a sober and discreet color, a simple frame and a light but also athletic silhouette. I believe it is also important that the design corresponds to what you're expecting to ride, as you're spending hours on and next to it. 
Its minimalistic design matches quite well the bike-touring spirit where you only take what's needed and you bring no superficial belongings. There's a certain sleekness in the overall design, so I was never bored of looking at it and maintaining it. 
After a month testing the Kona Sutra LTD 2020, difficult to leave my new friend ! There's a little headline on the headset cap that says 'long sweet ride', after looking at it for more than 138 hours, I feel like I understand what they meant when designing it.
The only advice I'd be worthy of giving you is to go and try it ! But make sure not to succumb to its charm ! ☺
A few infos about me. I am 1m93 (6ft4) and 80 kilos (175 lbs), took the 58 size that was perfect for me !
Tom Clouaire – @tomrmbd